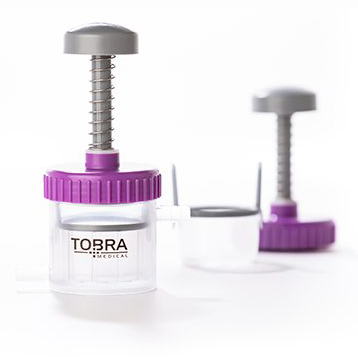 Ready to turn your idea for a medical or drug delivery device into a reality?
Talk with an expert today.
Bone Dust Collector
Tobra Medical
Bone Dust Challenge
Allow surgeons to easily and aseptically capture a clean, quality sample of patients' bone particulate for allograft.
Our Bone Dust Collector Process
At the time of this project, there were only a few similar products on the market. We knew there was a better way for surgeons to capture cleaner and higher-quality samples. Taking into account the inadequacies of current bone dust collection products, we created the Tobra Medical Bone Basket. It is a sterile, single use device that reduces the amount or potential need for costly bone substitutes. The crucial component of this device is the basket itself, which we constructed out of a unique mesh specifically designed and tested to capture bone dust. The basket is removable and can be inverted, maximizing the amount of sample that can be collected and easily removed from the basket. The Bone Basket is easy to set up and connects to flexible tubing for in-line connection so that samples can be collected without interrupting the continuous flow of blood and irrigation fluids. Working with Tobra founders, we took this from a simple concept all the way through to full development with a full detailed design, tool building, and ongoing in-house manufacturing.
Throughout product life cycle management, Gilero executed design improvements as well as authored and maintained the Design History File (DHF) for this Class 2 Exempt device. Gilero's engineers created custom injection molded bio-compatible components to ensure the device had an innovative edge over other off-the-shelf style competitors. With in-house manufacturing, Gilero's design transfer team created a manufacturing plan for this surgical device to be molded and assembled in ISO 8 clean rooms. After the device is packaged and assembled, it is sterilized via radiation following the sterilization process Gilero developed.
Bone Collector Device Outcome
A small and compact surgical device for in-line collection of bone dust that is easy to set up and assists surgeons in maximizing the collection of autologous bone. The Bone Basket also provides cost savings by reducing the amount of costly bone substitutes, biologics and allografts needed.