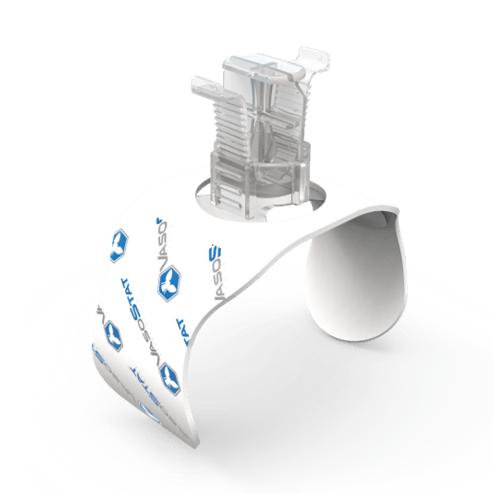 Ready to turn your idea for a medical or drug delivery device into a reality?
Talk with an expert today.
Hemostasis Device
Forge Medical
The Hemostasis Instrument Challenge
After arterial access procedures, consistent pressure must be applied to the access site in order to stop bleeding. Existing products on the market restricted blood flow to the area, successfully creating hemostasis, but did not allow the artery to continue flowing.
Our Hemostasis Device Development Process
Working closely with the founder of Forge Medical, an interventional radiologist, our objective was to design a device that would apply hands-free, constant pressure to stop bleeding at an arterial access site. It was also important that the device let clinicians maintain visibility of the puncture site to monitor bleeding. To apply pressure, we designed a plunger mechanism with ratchet arms. When the plunger is pushed down, it applies pressure to the area below. The ratchet arms keep the plunger in place as constant pressure is applied. Adhesive pads and a foam band were added on either side of the compression component so that the device would stick securely on a patient's skin. Clear plastic materials were selected for most of the device components to increase visibility. A clinician can check on the puncture site by adjusting the ratchet arms to release pressure and can easily resume applying pressure by pushing the plunger mechanism down again, all while the device remains securely attached to the patient. This design also allowed the artery to continue flowing, preventing numbness in the hand as radial pressure is applied. The device is easy to release so that a patient can go home with the device in place and remove it later. In addition to product design, Gilero provided regulatory consulting, helped to build the Design History File and produced the first round of devices using prototype injection mold tools.
The Hemostasis Device Outcome
Gilero designed & developed VasoStat, a hemostasis device that applies consistent pressure to stop bleeding after arterial access and is less costly and less complex than competitor devices on the market.