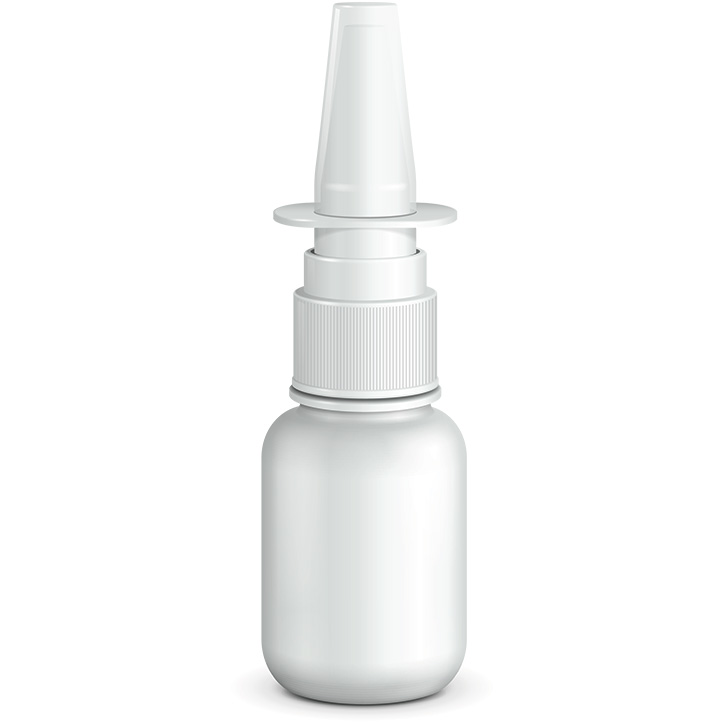 Nasal Spray
Gilero was approached by a client to help improve an existing manufacturing process for one of their devices. Our client's third-party manufacturer needed a system that would be able to carry parts of a nasal spray device through the manufacturing process and assemble the bottle with the nozzle. There were no efficient manufacturing practices that could marry an off-the-shelf nasal spray bottle with a custom nozzle.
Gilero's engineers created a manufacturing process that uses nests in order to lift and navigate the nasal spray bottle. The nozzle is placed on the bottle via an automated aseptic filling process and once that is complete, the bottle is removed from the nest, resulting in a fully assembled device.
While the design and development team was creating a product to meet manufacturing needs, our Human Factors engineers were assessing the overall usability of the nasal spray via a formative study. This nasal spray device is unique because instead of being used to cure a respiratory illness, it is prescribed to treat dry eye when eye droppers are not an option. To target the area necessary for treating dry eye, the nozzle of the device must be slightly tilted outward. It was clear that some participants in the study were not properly positioning the nozzle and dispersing the medicine in the appropriate area of the nasal cavity. To correct these actions, Gilero authored new Instructions for Use (IFU) to ensure proper terminology and directions for the patient. It was also determined that a training piece would be helpful for new device users. The training piece would help direct the medicine to the appropriate area of the nose, resulting in a more comfortable experience for the user. Gilero designed and developed the rubber training guide to be easily removed from the device based on the patient's preference and experience level. The guide piece was designed for manufacturing, specifically injection molding manufacturing, to ensure efficient and accurate production.
Gilero successfully created a product that makes an off-the-shelf medical device compatible with an existing manufacturing equipment system, therefore allowing the client's device to be manufactured more efficiently and making it more attractive to manufacturing vendors of their choice. In addition to improving the manufacturing processes of the device, the patient will be able to use the device more comfortably with the newly designed training guide and IFU.