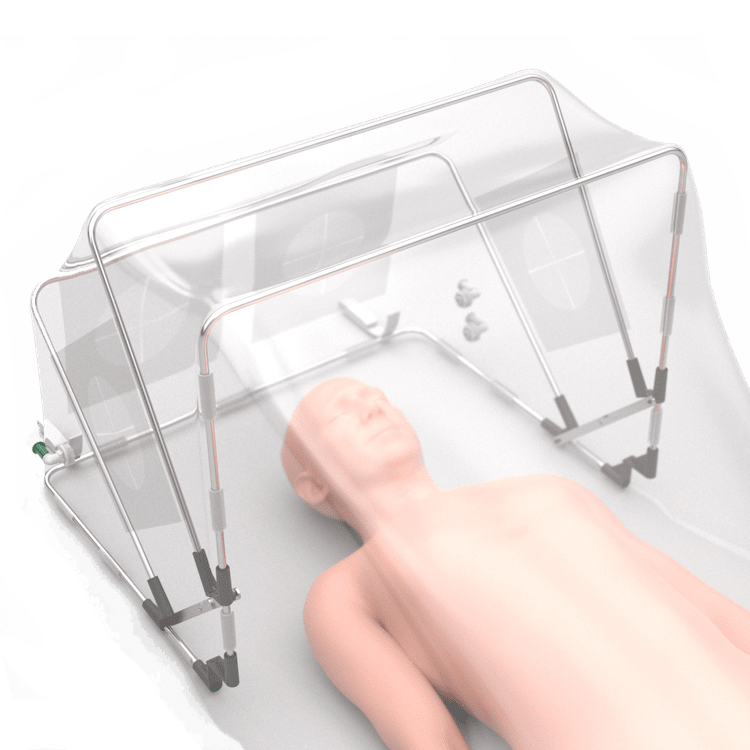 Negative Pressure Device
SCONE™ Medical Solutions
Challenge: Create an added layer of protection for healthcare workers to reduce the risk of infectious aerosol exposure. Due to increased demand for safety solutions brought on by the COVID-19 pandemic, this device needed to be designed as quickly as possible and developed in a way that would allow it to be mass produced.
Approach: The initial design for the device, created by SCONE Medical Solutions with clinical support from Mayo Clinic, involved a polycarbonate, reusable box that would have to be sanitized in between each use. The Self-Contained Negative Pressure Environment (SCONE) device utilized existing hospital suction lines and HEPA filtration to create a small capacity self-contained negative pressure environment. Gilero was tasked with simplifying this design for manufacturability while keeping the technology intact. We were able to redesign the SCONE device to be disposable, affordable, and easy to use. The redesigned device can now be deployed quickly and easily in healthcare settings when triaging potentially infectious patients, during aerosol generating procedures, and while transporting a patient throughout the facility. In addition to completing the design and development of this device, Gilero assisted with patent applications, provided prototypes, sourced materials, and successfully transferred the design to manufacturing. After taking this device from concept to commercialization in just four months, Gilero began assembling, packaging and shipping the SCONE devices from our U.S. manufacturing facility.
Outcome: An "active" barrier protection device that helps control the risk of infectious disease transmission in healthcare facilities.