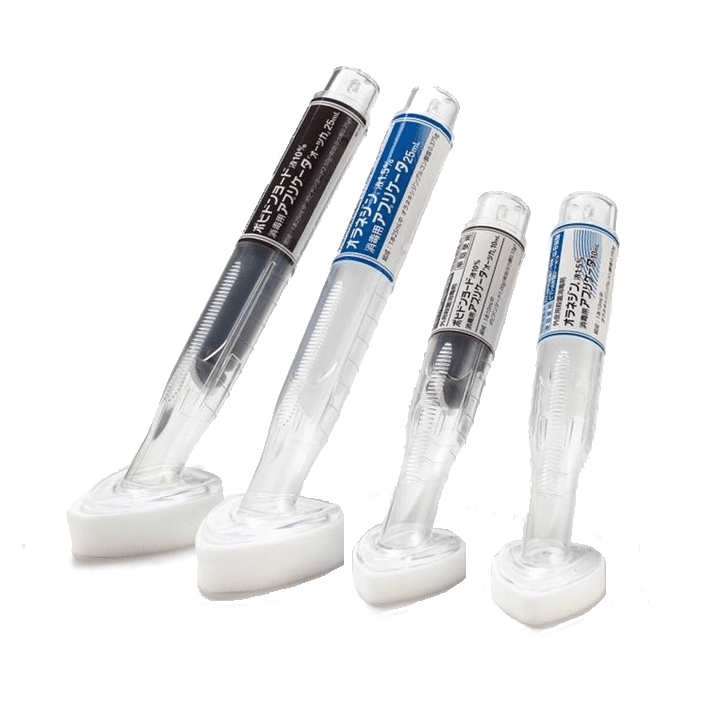 Topical Applicator for Antiseptic
Otsuka Pharmaceutical
Challenge: Design and develop a novel, easy-to-use topical applicator for antiseptic. It was a requirement that the antiseptic container could be filled aseptically, and glass could not be used as a container material.
Approach: Otsuka Pharmaceutical wanted to launch the first topical applicator in Japan for the antiseptic they had developed. In the Japanese market, a product such as this could not have a glass container. Not only was our team tasked with sourcing an alternative container material, but we also had to ensure the container we chose could be aseptically filled. Our team developed a foam that would have specific delivery characteristics while being fully compatible with the antiseptic. This foam performance allows the antiseptic to come out as a foam onto a foam applicator which is then rubbed onto the skin. The device we created was able to be actuated with one step, came in a glass-free container and withstood the low threshold for ethylene oxide and ethylene glycol residuals. In addition to designing and developing this device, we also built tooling and validated processes for the manufacturing and assembly of these devices. Towards the end of this project, we helped the Otsuka team navigate the international patent landscape and successfully transferred this device and technology to Japan.
Outcome: The first topical applicator for antiseptic use that could be aseptically filled and came in a glass-free container.