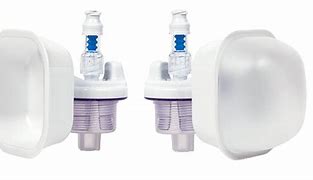 Ready to turn your idea for a medical or drug delivery device into a reality?
Talk with an expert today.
Vented and Closed Needle-free Valve Vial Adapter
Gilero was selected to design and develop a needle-free valve vial adapter. The requirements for this device were for it to be universally compatible with a variety of closure sizes (such as 13, 20, and 28mm) as well as have vented and closed systems.
Gilero's design and development engineers created closed and vented vial access adapters that eliminate needles, reduce surface contamination, and mechanically trap vapors. These needle-free vial access adapters feature a sterile fluid pathway, unique check valves, unique venting, and unique ultrasonic welded components. The vented vial adapter allows air to enter via a 0.2 micron vent for easy fluid withdrawal but is mechanically closed with a one-way check valve, preventing air from escaping. This device fulfills the Closed System Transfer Device requirements, as evidenced by its FDA ONB device classification while retaining the user-friendliness of a vented vial adapter.
Gilero successfully obtained patents for the device and submitted the 510k application on behalf of the client. Gilero also developed the original manufacturing processes for the client to use in-house.  
Ultimately, Gilero transformed a concept in need of improvement into an FDA-approved, ready-for-manufacture device. The Healthcare Provider (HCP) using the device is now safeguarded against needlestick injuries and bloodborne pathogen exposure during the medication preparation process. In recognition of its effectiveness, the device was a finalist for MDEA in 2014: General Hospital Devices and Therapeutic Products.