Charles Barkley Invests in Cary Medtech Startup NeuroVice
This is an excerpt from the article NBA legend Charles Barkley invests in Cary medtech startup, written by Chantal Allam and published by WRAL TechWire. The full article can be found here.
CARY, NC – NeuroVice, a fledgling startup that's developed a tongue protector for seizure sufferers, has landed crucial seed funding from NBA great Charles Barkley.
On a hunch, its CEO and founder, Ashlyn Sanders, wrote the famous basketball player after he appeared as a guest on ABC's Season 10 of "Shark Tank" a few years back. Much to her surprise, he wrote back.
"I was invited down to pitch to him and several of his advisors," Sanders, 27, recalled. "A few months later, I was actually given the call that he would invest."
A representative for Barkley based in Atlanta confirmed the investment. "Ashlyn's presentation was one of the most professional and charismatic business plans I've ever been presented," Barkley said in a statement by email. "I wanted to do my part in ensuring her success."
Barkley is well known as an angel investor. Back in 2017, he pledged $1 million to fund Alabama black women's tech startups. "My goal is to help advance women in the technology field and shine a light on their efforts," he added. "Ashlyn is a great example of someone who will leave a major mark in the industry."
Sanders knows firsthand the challenges of living with seizures.
In 2014, shortly after starting graduate school for bioethics and science policy at Duke University, she was diagnosed with a Chiari malformation, a condition in which brain tissue extends into your spinal canal.
She required emergency brain surgery. However, to this day, she still lives with the residual neurological effects, which include seizures.
It's estimated that 3.4 million people suffer from epilepsy, or seizure disorder, in the United States. Symptoms include uncontrollable twitching, which can often cause oral injuries.
"My perspective was from as a patient living day-to-day with the symptoms," Sanders said. "I started to think about a device that could be used to safely and effectively prevent that from happening during the seizure."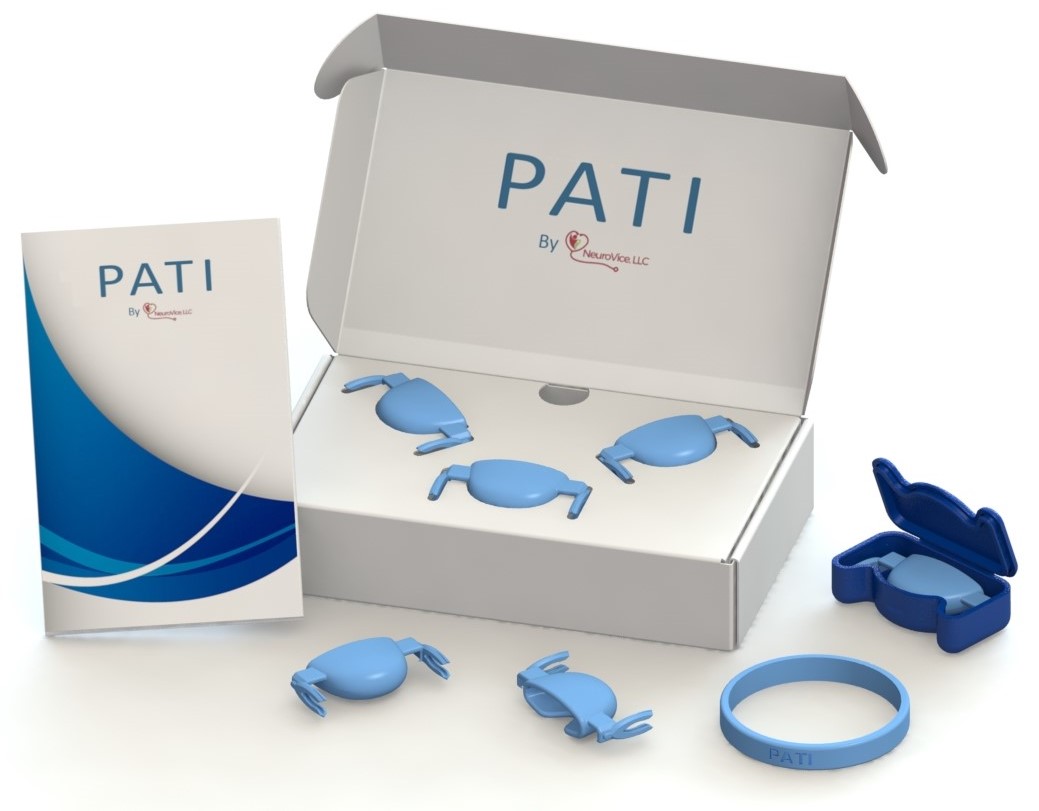 Enter PATI, a protective device that is currently patent pending and is in the final stages of clinical development at the Morrisville-based medical device design and manufacturing company Gilero.
How it works is simple: Before sleep or the onset of an "aura," often described as the beginning of a seizure, the patient inserts the protective device into the mouth, preventing injury to the tongue during an episode. After the seizure, the patient removes the device, discards it and restocks with a new PATI.
Additionally, it is also intended to be used as an emergency medical supply intervention by first responders. "It has the potential to be a billion-dollar product," Sanders said. "I'm really excited about the multiple indications and revenue streams that it has the potential to go down."
As for working with Barkley, she said it's been "great."
"He's a wonderful person. I was very nervous when I pitched. It was definitely different from some of the other competitions that I had. It was very formal, lots of questions. Obviously, as an investor, he's very concerned about bottom line but also really moved by how this product is going to improve quality of life for millions of patients. So it's definitely been a great experience so far."
At Gilero, we strive to create products that will improve the patient experience and make it easier for clinicians and caregivers to do their jobs. Our team is thrilled to be working with NeuroVice to develop PATI, a medical device designed to prevent oral injury during seizures.
Ready to turn your idea for a medical or drug delivery device into a reality?
Talk with an expert today.
Back To Blog