Governor of North Carolina Visits Gilero Manufacturing Facility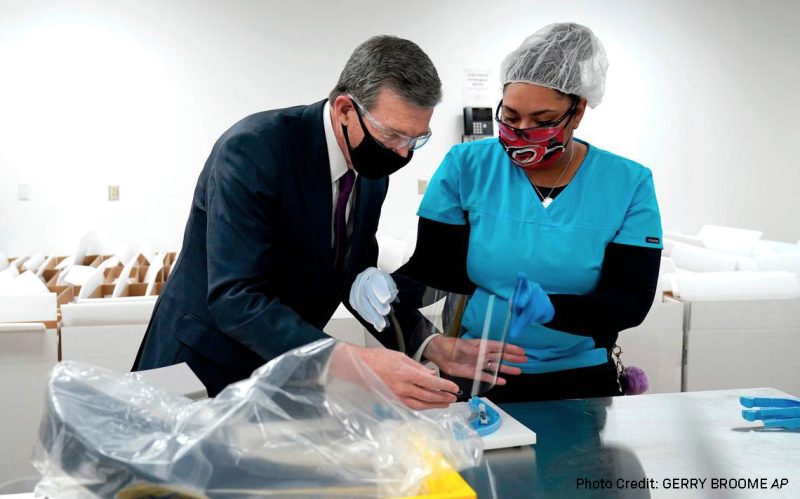 Yesterday, North Carolina Governor Roy Cooper visited Gilero's manufacturing facility in Pittsboro, NC.
As a medical device company, Gilero felt compelled to find a way to help during the early days of the pandemic. This past spring, Gilero quickly designed, developed, and began manufacturing a protective face shield to be used in healthcare settings. The state of North Carolina has been one of the largest purchasers of these face shields, and Governor Cooper wanted to learn more about the production process.
"We are humbled that Governor Cooper is interested in the work of Gilero and other local companies who are producing PPE in the wake of COVID-19," shared Ted Mosler, Chief Executive Officer of Gilero. "When the pandemic hit, we felt it was our moral and civic duty to help in some way. We expedited the design and manufacturing of the face shield. We're grateful to Governor Cooper and the Departments of Emergency Management and Health and Human Services for the opportunity to help protect the front line workers of North Carolina who risk so much each day to battle this virus. Protecting our frontline workers is paramount, and we continue developing products to protect these workers, and now, to improve the rapid detection of the virus because our work force wants to use their skills and capabilities to make a difference."
Gilero recently worked on the design and development of two other COVID-related products, a Self-Contained Negative Pressure Environment (SCONE™) for SCONE Medical Solutions, a device that helps protect healthcare workers from infectious aerosol exposure, and a nasopharyngeal swab for Yukon Medical, a specimen collection swab that has the potential to improve rapid detection of COVID-19.  Both are now being produced at Gilero's Pittsboro facility.
Ready to turn your idea for a medical or drug delivery device into a reality?
Talk with an expert today.
Back To Blog