The Importance of Human Factors for Medical & Drug Delivery Devices
As medical and drug delivery devices grow increasingly complex, regulatory agencies continue to place a greater emphasis on ensuring the safety and effectiveness of these devices through user research and human factors testing. Anyone using a medical device, whether clinician or patient, should be able to do so without making mistakes that could compromise the safety of the end user.
Human factors studies examine how a user interacts with a device in a simulated use environment. The goal of human factors and user testing in the medical device industry is to identify and mitigate any avoidable errors that could occur by considering the user, environment and interface in relation to the product. These simulated scenarios could try to emulate a surgeon in an operating room, a nurse in a clinical setting, or a patient at home with a connected medical device. Human factors and usability testing for medical and drug delivery devices is crucial to ensure that the product design is readily embraced by users and can be operated safely in real-world conditions.
Requirements & Steps for Human Centered Design
An obvious requirement of designing a new medical device, or any type of device, is that it must function as intended. Human centered design asks questions beyond 'does this device work the way it's supposed to?' and considers whether users can successfully operate the device in the way it is intended to be used. Do the instructions for use that come with this medical device make sense to the clinician who will be operating it? Does the method for using this drug delivery device fit into a pharmacist's current workflow? Can users properly manipulate the device or modify settings?Incorporating human factors engineering early within the medical device design process is essential for reducing use-related errors and risks.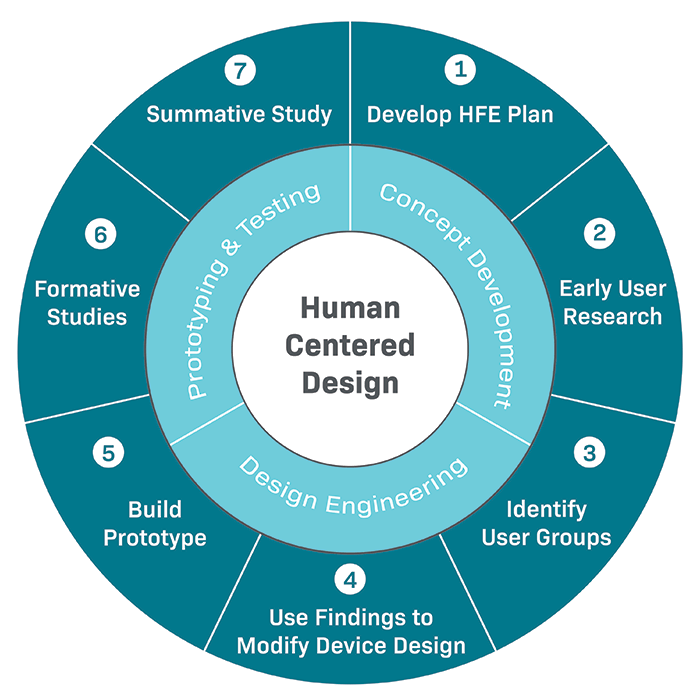 Human factors and usability engineering can be executed differently depending on the device and its requirements. At a high level, the steps for human factors in the medical device industry are as follows:
Develop a Human Factors Engineering (HFE) plan
Gather early user research (this could include contextual inquiry, individual interviews, focus groups, surveys, etc.)
Identify distinct user groups, understand their needs, and try to anticipate how they will interact with the device
Apply findings from user research to modify device design and create a prototype
Execute formative studies with several people from each user group (5-9 per distinct user group)
Make necessary changes to the device based on results, then execute additional formative studies as needed
When the device and labeling are close to finalized, complete a validation study with at least 15 individuals from each significant user group
For US markets, the FDA strongly suggests submitting a HFE/UE report summarizing human factors testing activities when a 510(k) is submitted for a medical device. It's important to review the FDA guidance documents for applying human factors and usability engineering to medical devices and combination products to ensure the testing plan meets certain criteria.
Human Factors & Usability Testing of Medical Devices with Gilero
Improper use of a medical device can result in serious injury or even death. Investing in human factors during the design and development process can help identify potential problems and reduce the risk of a device being used incorrectly before it ever gets on the market. At Gilero, human-centered design is core to our process. We offer a full suite of medical device design and development services, including human factors. Our in-house human factors team follows ISO 62366-1 and is skilled at conducting market evaluations, contextual inquiries, ethnographic research, formative usability testing, summative usability testing, focus groups, risk analyses, and more. We deliver devices that perform safely and effectively in the real world. When human lives are at stake, human factors testing is an invaluable investment.
Back To Blog